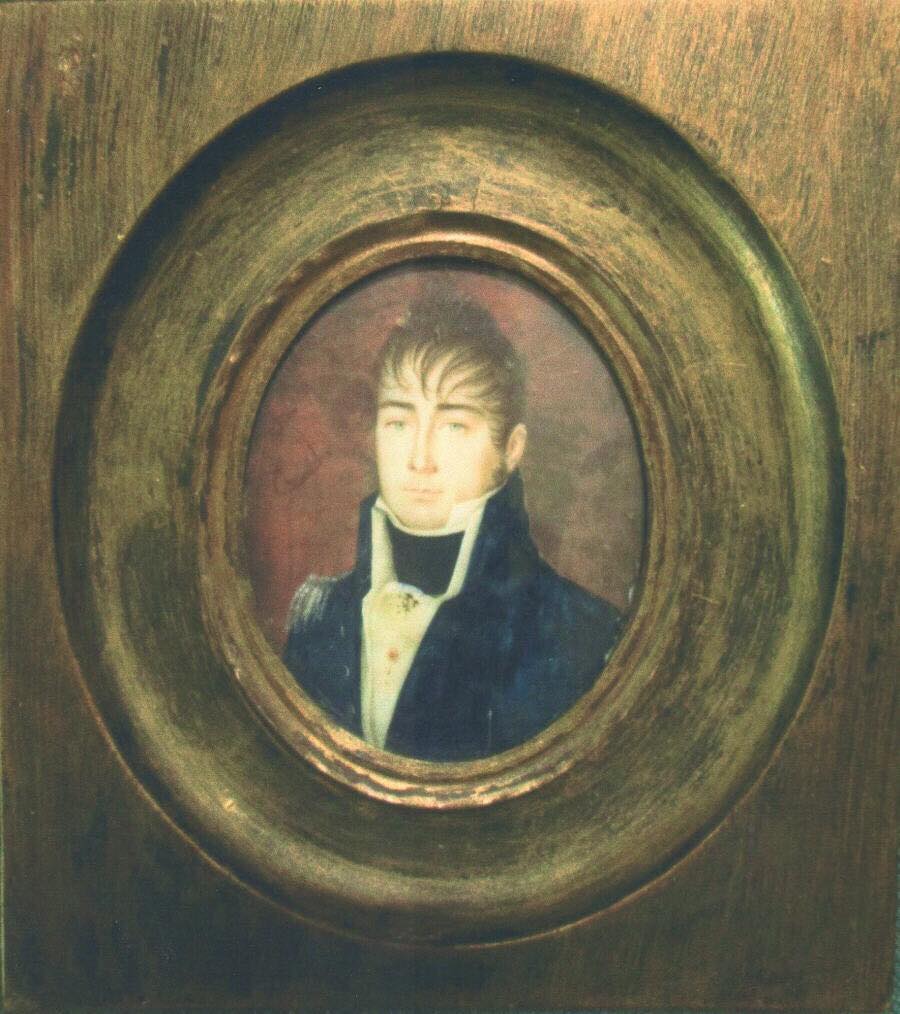 MAJOR GENERAL THOMAS WADSWORTH FARRAR resided in Elyton, Jefferson County, Alabama in 1821. He was born in South Carolina in 1784 to LT. COL. THOMAS and MARGARET (PRINCE) FARRAR His father, LT. COL. THOMAS FARRAR was born Oct. 1, 1754 and married MARGARET PRINCE in South Carolina Oct. 7, 1777. MARGARET PRINCE was born March 4, 1756. THOMAS WADSWORTH'S father died on August 24,1833, and his mother on Nov. 8, 1830. Both died in Claiborne County, Mississippi.
MAJOR GENERAL THOMAS FARRAR served as in the War of 1812 and was one of the earliest settlers of Jefferson County. He was a lawyer and one of the first to belong to the Jefferson County Bar. He was described as "about forty years old, corpulent, big-hearted, genial, and an epicure. No dinner party was complete without him. His appetite always relieved any deficiency of the caterer. He had little energy, but, withal, was a good lawyer."
As usual with new counties Jefferson County was sparsely settled, and the administration of justice was begun, and for several years prosecuted, in the crudest and most primitive manner. There was no courthouse and the first court was held in a log hut about one mile east of Birmingham. This seat of justice was never dignified with a name, and after three or four terms of the court were held there, Carrollsville (four miles south of where Birmingham now stands) was selected as the place to hold the courts. Here, too, the court accommodations never exceeded the limits of a log cabin, in which two terms of the court were held, and then the county seat was removed to Elyton, about two miles south of the present flourishing city of Birmingham.
MAJOR GENERAL THOMAS FARRAR served as a member of the Legislature, representing Jefferson County in 1822. THOMAS WADSWORTH FARRAR married SERAPHINE FELICITE BAGNERIS June 23, 1814 in New Orleans, Louisiana. Among the guests at his wedding was the Territorial Governor of Louisiana and Mississippi, WILLIAM COLES CLAIBORNE, FARRAR'S death occurred in November 1832 in New Orleans, and he is believed to be buried in that city." THOMAS and SERAPHINE had the following known children: (1) DUVALMONT FARRAR b. Oct 2, 1823 Elyton, Jefferson Co., AL (2)SERAPHINE MELANIE FARRAR b. Dec 29, 1829 Elyton, Jefferson Co., AL (3) CATHRINE FARRAR b. 1831 Louisiana (4) HENRY THOMAS FARRAR b. Jan 6, 1832 New Orleans, Louisiana. SERAPHINE died after 1850 Louisiana census.
*note:: 1838 Grand Lodge Proceedings list the death of the following:
Perry Lodge, No. 34, Marion – G. .T. W. Farrar