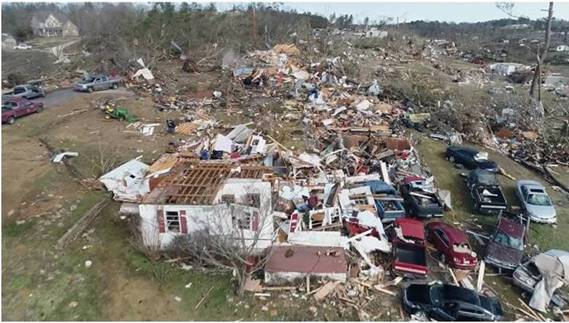 On January 25th , a tornado ripped through the Fultondale and New Castle Communities in northern Jefferson County, barely missing the Gardendale Lodge, but causing massive destruction to the neighboring communities and taking the life of a 14-year-old boy.  It is disasters like these when we, as Masons, can exercise these important tenets in our community.
Brother Nick Chieffo of Brooklin Lodge #704 visited with Brother Paul Thomas of Gardendale Lodge #907, and together, with the help of Brother Melvin Cochran of Sam Thompson Lodge #456, organized an effort to raise funds and supplies for those affected.  Brother Chieffo, and another member of Brooklin Lodge, Brother Bryant Fortenberry, operate a food cart in addition to their usual vocations.
After contacting as many of Brooklin's members as possible in a short time, they brought their food cart to an emergency staging area in Fultondale. Although several of their brothers from Brooklin were able to attend, they were quickly overrun with demand. Brother Chieffo said he was amazed by the number of brothers who were there already or who came after a quick phone call. They jumped in to help man the cart, purchase additional cart supplies and help in any way they could.
Before long the brothers from Gardendale, Sam Thompson and Brooklin were joined by masons from Acacia #670, Maryland #783, Milton H. Fies #722, Brookside #552, Hewitt-North Birmingham #519, Georgiana #285 and Huffman #633 Lodges, as well as brothers from the GAOTU Tribe of the Widow's Sons. Brother Andy McCaleb of Milton H. Fies, brought his bobcat and helped clear debris.
In a matter of hours, the food cart raised $3,000 from sales, and other contributions – from masons and community members alike – totaled just over $3,000, generating in excess of $6,000 that was immediately donated to the relief efforts.
This truly is Freemasonry at it's best!
Brother Bruce L. Patterson, PM
Secretary, Brooklin #704